Description
From the makers of the Scofflaw Brewing Company arose Flippin Bird Brands, an exotic spirit manufacturer of the Atlanta area. Its post-modern grunge brand identity brought about an exclusive opportunity to build a company's name up from scratch, while presenting us with unique design challenges.
The Challenge
What started out as a mere challenge of graphical design, quickly grew into a diverging conceptual problem as we tried to strike a balance between Flipping Bird's punk-rock theme and maintaining a high level of sophistication along all UI elements.
Then soon after UI structuring and design elements had been finalized, we faced a marketing contingency that relied heavily upon the manner in branding was presented to potential customers and subjective opinions that would determine sales margins for the company.
The Outcome
A successful product launched was accompanied by a thriving website with confounding amount of traffic. The digital turnout exceeded our expectations, and this was largely due in part to the monuments focus put onto social media marketing. Our social media team made sure that people were excited about the spirits before they even hit the shelves.
Doing a deep dive into Flippin Birds competitors social media pages, websites, and advertisements gave insight to what would and would not work. Before posting a single picture on Instagram, we knew exactly how to approach the market with message that would get people raving about the brand.
Defining The Flippin Bird Brand
Working a design-heavy project usually means viewing thousands of examples, contrasting what graphic concepts accentuate the brand identity, and creating many different prototypes. With the Flippin Bird Project, we were not afforded the opportunity of juxtaposing similar brands, since Flippin Bird's identity was so unique. So we hit the design board hard, creating many different prototypes completely from scratch, while on the verge of creative burnout.
After many hours of scratching possible designs, we were on to creating the a visceral UI that truly personified the intentions behind the Flippin Bird team. Using the most advanced applications and features of the Adobe Creative Suite in conjunction with state-of-the-art CSS stylings and animations, were conceived a site that combined a punk-rock thematic with the clean and visually satisfying page elements.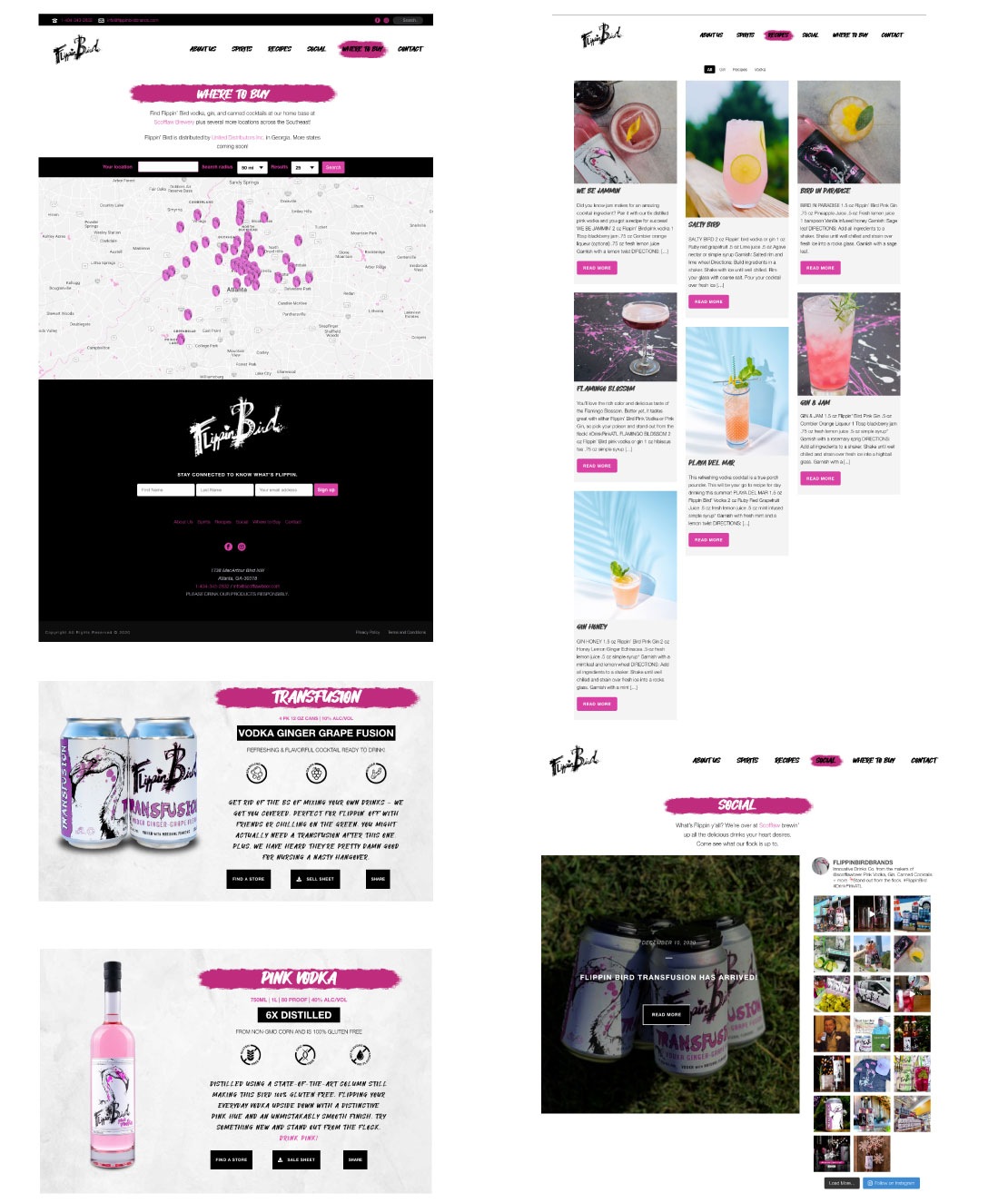 Bringing Enthusiasm to the Community.
After bringing companies into a digital spotlight for more than 10 years, creating a buzz that got people enthralled about Flippin Bird came nearly second nature to our team. Beginning with specific functionalities on the website that created brand awareness, our team got local entities talking about the brand online, which brought more traffic to the site through back-links, and began posting regularly on relevant social media platforms like Instagram and Facebook.
The Flippin Bird Brand hit the ground running. After a successful launch, shelves across the Atlanta area were stocked with the one-of-a-kind spirit and selling quickly, signaling that our digital marketing efforts had prospered.